Angular 10 Release Date: Angular 10 Will Focus on Ivy Artifacts and Libraries Support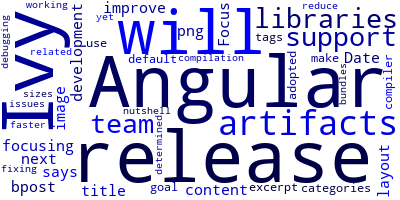 After the release of Angular 9, the development team says that the next release, Angular 10, will be focusing on Ivy artifacts.
Angular 8 adopted the use of the Ivy compiler by default,
Ivy's goal is to make compilation faster, reduce bundles sizes, and improve debugging.
With Angular 10, the team will be working to improve Ivy support for libraries.
In nutshell, the Angular 10 release will be focusing on fixing issues related to Ivy and support for libraries. The release date is not yet determined.
---
✋If you have any questions about this article, ask them in our GitHub Discussions 👈 community. You can also
✋ Want to master Angular 14? Read our angular tutorial and join our #DailyAngularChallenge where we learn to build components, directives, services, pipes and complete web, mobile, and desktop applications with latest Angular version.
✋ Make sure to join our Angular 14 Dev Community 👈 to discuss anything related to Angular development.
❤️ Like our page and subscribe to our feed for updates!

Find a list of emojis to copy and paste
---